Rack Mount Kestrel Chassis M/E/F-Series 12-slot

0224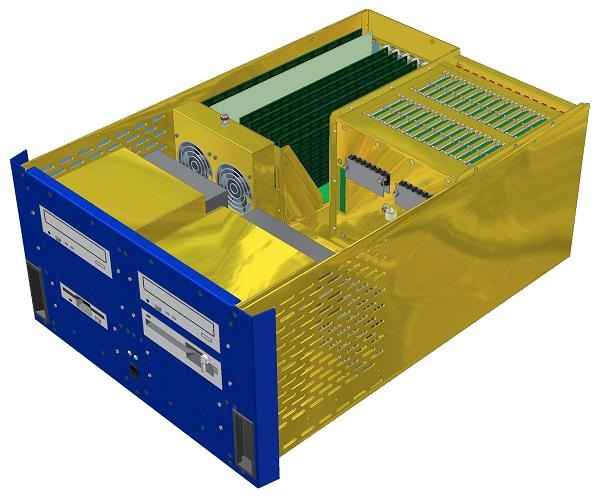 Rack Mount Kestrel Chassis 12-slots (P/N 0224)
The chassis has a 13-slot 21MX backplane, of which 12 are available to the user; power supply, cooling fans, PC passive backplane and slides plus space for PC single board computer, diskette and hard drives (two visible 3.5" and two hidden 3.5" bays). Unit slides into standard 19" rack. A firewire Chassis Interface Card (CIC) must be purchased to provide backplane signals from the Kestrel to the chassis.
Dimensions: 10.5" high by 19" wide by 26" deep (267 x 483 x 660 mm)
Power: A 100-120/200-240 VAC, 47-63Hz system power supply delivers +5V@60A, +12V@10A, -12V@10A, -2V@10A, +28V@2A.
Capacity:
M/E/F-Series - 12 slot HP1000 M/E/F-Series slots
PC - Single-Board Computer with Passive Motherboard, 4 x 5-1/4" Bays, 4 x 3-1/2"
Weight: 65 pounds configured w/o M/E/F-Series boards.
Material: .100 thick aluminum.

Notes: this chassis is FCC/CE certifiable**.
---
sales@strobedata.com